Bedford bids to 'free' Huddleston bust from Christmas tree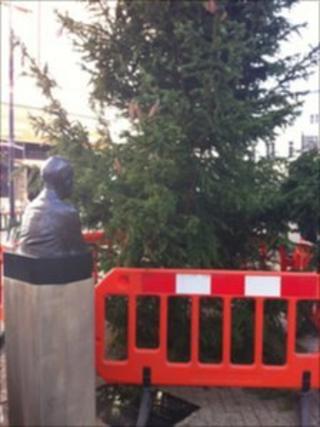 A social network campaign to 'free' a Bedford statue which is obscured by a Christmas tree has been launched.
A bust of the late anti-apartheid campaigner, Bishop Trevor Huddleston, has been hidden by the town's decorations in Silver Street.
The 'Free Huddleston' movement, started by the Bedford Network blog, is seeking to have either the statue or the tree moved.
The council said it would find a new place for the tree "next year".
The Anglican priest Trevor Huddleston was born in Bedford in 1913 and died in 1998 after campaigning against apartheid for much of his life.
In South Africa in 1959 he was one of the founders of the Anti-Apartheid Movement, and became its elected president in 1981.
The statue in his honour was unveiled by Nelson Mandela on his visit to Bedford in 2000, who said at the time: "No white man has done more for Africa than Trevor Huddleston."
'More fitting'
Objections to the siting of the Christmas tree were first raised three years ago but it was not moved, despite a local newspaper campaign.
The Bedford Network is a blog which shares the "best experiences of Bedford" and this year founders Caroline Wise and Sue Gough decided to be proactive.
After posting a comment on Twitter that Huddleston had been "hidden by ugly Christmas tree", Ms Gough said that they received positive feedback from the people of Bedford.
"People felt very strongly that he was somebody we should be proud of," she said.
Mayor Dave Hodgson joined the debate by responding that the "branches will be cut back" but those supporting the campaign feel this is not enough.
Ms Gough said that in an ideal world they would like the statue moved to somewhere "more fitting".
"For a man who fought all his life for freedom, isn't it time we gave the statue honouring him the space it deserves away from Christmas trees and toilets and phone boxes and other street clutter in Silver Street?" she said.
However, she added that they understood the council was "up against it" in the current economic climate and they really just wanted the tree moved.
"There are no decorations on it yet and there are about five or six other Christmas trees in Bedford so people won't miss this one," she added.
A council spokesperson said that they would "identify a new location for the tree next year".
A statement said the council had "trimmed the branches back to make the bust more visible and allow improved access".
"Trees of this size can only be placed in designated pits to ensure they are safe and have access to power supplies," it said.