New sidings prepare Bedford for 12-carriage trains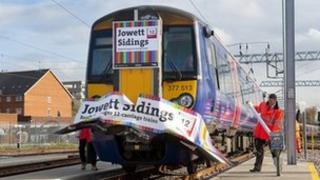 Railway sidings designed to help First Capital Connect (FCC) operate its first 12-carriage trains have opened in Bedford.
The Jowett Sidings, named after Bedford railwayman Rodney Jowett, are needed to stable the longer trains, which are nearly 270yd (250m) long.
The trains will come into operation on 12 December.
They will be used for six services a day from Bedford, creating almost 1,500 extra seats.
The sidings south of Bedford station have five tracks and are a key element of the Thameslink Programme, a £6bn government-funded initiative to ease congestion on the Bedford to Brighton route.
The trains will initially operate on three morning and three evening services but more of the longer trains will be introduced when a new fleet is delivered in 2015.
The sidings were opened by Shirley Jowett, whose husband worked on the railway for over 30 years.
Bedford born Mr Jowett, began work as a cleaner in the days of steam and rose to the rank of driver in the late 1960s.
He became a senior driver instructor, ending his career as train crew leader when he took retirement in 2000. He died from cancer in 2003.
FCC's Managing Director Neal Lawson said: "To name these sidings in memory of Rodney was the right thing to do.
"He was a railwayman through and through and a true gentleman which makes him an inspiration to us all."