New dementia sufferers' flats built in Bletchley Park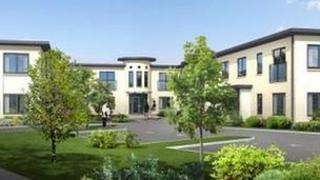 Supported housing for people with dementia, believed to be the first of its kind in the country, is being built in Buckinghamshire.
The 34-bedroom development at Bletchley Park will use the latest technology to allow sufferers to live independently, but with 24-hour support.
The £3.2m project was made possible with a grant of £2.4m from the Homes and Communities Agency.
It is set to be completed by August 2012.
The need for the scheme, which is being built by social housing provider Grand Union Housing Group (GUHG), was identified by Milton Keynes Council's Adult Social Care team.
The aim is for people with dementia who have "moderate" needs to be able to live in a safe, supported environment.
Aileen Evans, managing director of Aragon Housing Association, part of GUHG, said the housing would provide "a world of difference" from the usual warden-controlled setting.
"The technology in the building will help keep people safe without them having to be followed around in a restricted environment."
A range of sensors, pressure pads and electronic aids will alert staff to problems, while the design of the building will enable residents to move around more confidently.
Flowers and trees will line the route to the garden so that residents can find their way.
A "normal" social housing rent will be charged, while the council's social care funding will provide the care and support for individuals according to their needs.
"I think it's what housing associations should be about," added Mrs Evans.
"People with dementia are amongst the most vulnerable in our society and as an organisation we care passionately that they get the best care and support."