Boy 'hid abuse details from dad'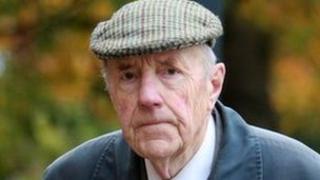 An alleged child abuse victim kept it secret for more than 30 years for fear of what it could do to his father, a court has heard.
The man, now in his mid-40s, claims he was abused by Francis Cory-Wright, now 86, during fishing and shooting trips in Hertfordshire in the 1970s.
St Albans Crown Court heard he felt unable to tell police until his father died in 2010.
Mr Cory-Wright, of Little Gaddesden, denies two counts of indecent assault.
When the victim spoke to officers, he said he had decided to report the abuse because it was "a piece of unfinished business".
Anne Evans, prosecuting, said the abuse took place over a summer when the victim was 10 years old.
Waiting for rabbits
The jury heard he first met the defendant while fishing with his father by the canal in Berkhamsted.
Mr Cory-Wright offered to take the boy fly-fishing and shooting, the court was told.
Then an underwriter with Lloyds, he would pick the boy up in a vintage car and take him out into the country.
It was while they were laying on the brow of a hill, waiting for rabbits, that Mr Cory-Wright would abuse him, Mrs Evans said.
The victim described Mr Cory-Wright as having an ex-military bearing about him and "seemed a pillar of the community type".
The incidents came to an end when Mr Cory-Wright asked if the boy's younger brother would like to join them.
The victim told police that the trips stopped because he did not want the same thing to happen to him.
The trial continues.