Nine held as man stabbed at Willington gravel pits rave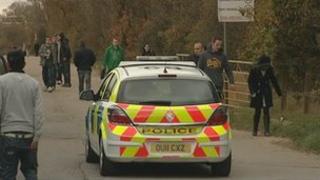 Nine people were arrested at an illegal rave in Bedfordshire at which a man was seriously hurt in a stabbing.
The 32-year-old man is in a serious but stable condition in hospital after being attacked at the event in Willington.
The rave at the Lafarge gravel pits attracted about 1,000 people who arrived at the site about midnight on Saturday.
Officers made the arrests as they broke up the event on Sunday lunchtime.
Three people were arrested on suspicion of causing a public nuisance and one person was arrested on suspicion of possession with intent to supply a class A drug, Bedfordshire Police said.
Another person was arrested on suspicion of being over the prescribed drink-drive limit and a further three people were arrested for driving offences.
One person who was wanted for theft by Norfolk Police was also arrested.
Witness appeal
Police are appealing for witnesses to the stabbing in which the man from Flitwick was attacked between 07:00 GMT and 07:30 GMT on Sunday.
The attacker is described as white, in his mid 20s and wearing a grey hooded top with navy piping around the edge of the hood.
A further two people collapsed and needed hospital treatment after inhaling laughing gas.
A teenager was taken to hospital after breaking her arm while she tried to climb a fence.
Officers seized sound equipment, nine vehicles and removed the remaining 250 people from the site on Sunday lunchtime.
Supt Linda Kelly said: "Organisers of such illegal raves such as this are not welcome in Bedfordshire.
"We were very concerned about the people who attended this illegal rave as they had no regard for their own safety or that of others."