Luton Airport income leads to town's lower council tax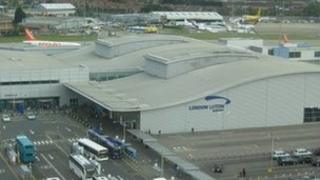 Luton residents pay the lowest council tax in Bedfordshire, due to income from London Luton Airport, according to the council.
Luton Borough Council (LBC) own the airport through a company called London Luton Airport Ltd (LLAL).
It said the total concession fee paid to this company from March 2010 to March 2011 was £22.2m.
A statement said this was a "significant income" which "substantially reduces the amount which would otherwise need to be raised through council tax."
According to the latest figures, Luton's average Band D council tax requirement for 2011/2012, which includes fire and police authority precepts, is £1,371.10.
'Touches lives'
In the Bedford Borough Council area, the equivalent figure is £1,555.92 while it is £1535.54 for a household in the north Central Bedfordshire Council area and £1571.36 in the south.
As well as keeping council tax down, the money is used to fund major building schemes in the town including the new Aquatics Centre and £10.9m was given to voluntary organisations, providing essential services to the people of Luton.
Contributions towards the sports, leisure and cultural activities provided by Active Luton and Luton Culture have also been made.
More than 8,000 people work in and around the airport which was used by more than 9.5m passengers.
Councillor Robin Harris, Chair of London Luton Airport Ltd said the complex was "a major contributor towards the council's finances" and that they would "be in real trouble without it".
"The way that it actually touches the lives of an awful lot of people in a positive way is remarkable and without it and what it actually delivers for the town we'd be far, far worse off. It's an absolutely incredible asset to have."