Give An Hour: Voluntary group opens new world to job seekers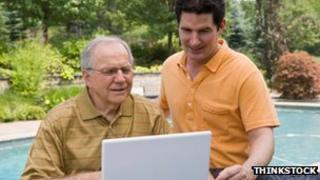 A voluntary group in Bedfordshire is helping people improve their computer skills to help them gain employment.
The Helping Hands Unemployment and Guidance Centre in Sandy was set up by Laura de Quincey and Ken Lynch in 2010 for people from north and east of the county.
The centre offers advice and support for people of all ages who can't find work, is run entirely by volunteers and funded by grants and donations.
As well as basic IT skills, visitors can do classes and workshops in CV writing, self confidence and self esteem and are also offered counselling.
BBC research has shown that across the UK a quarter of households don't have access to the internet, with the lowest proportion in the over 55 age group.
The study revealed that on average 42% of over 55s in the UK have never used the internet and across Bedfordshire, Hertfordshire and Buckinghamshire the figure is 24% and this can put them at a disadvantage when it comes to finding jobs.
According to government figures, nearly 4m people aged between 50 and 64 are out of work and the figure has risen by 2000 in the last three months.
David Careless is in his 50s and has been looking for work since he was made redundant in 2009.
'Society of technology'
As a cleaner, he has found that many of these jobs are advertised online so he needs the skills in order to apply.
He hopes what he has learned at the Helping Hands centre will not only help him to get a job, but will be useful to him when he is in work as well.
"Anything I can learn I can put towards a job," he said.
"It's hard finding work and I hope these skills will push someone into giving me a job. If I don't keep positive I might as well give up."
Ms de Quincy said that it is especially important for older people to gain more skills for their CV.
"We've recently had clients referred to us from the job centre who've been long term unemployed and they're older people and have no idea about the computer," she said.
"I think we assume because we use computers and we're a society of technology that everyone knows about computers but they don't, so we actually start right from the basics, how to switch it on and what the parts mean."
With the clocks going back at the end of October, we will all have an extra hour in the day.
The Give An Hour campaign is trying to encourage people to spend that hour showing someone how to use the internet for the first time.
BBC Give an Hour runs until 30 October, 2011.
The Helping Hands Unemployed and Guidance Centre is open Monday to Wednesday from 10:00 BST - 16:30 BST.