Leigh Clift jailed for life for screwdriver murder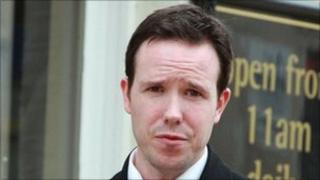 A man convicted of murder when his victim died nine years after he was stabbed in the head with a screwdriver has been jailed for at least six years.
Jonathan Barton was 19 when he was attacked outside a pub in Milton Keynes in 2000 and was left unable to move or speak. He died in 2009.
Leigh Clift, 31, of Lincolnshire Close, Bletchley, had denied murder.
He has already served five years in jail over the attack, for grievous bodily harm, Luton Crown Court heard.
The jury heard earlier that Clift was in the Beacon pub at the same time as Mr Barton and appeared to wink at his victim "provocatively" as he left, which started an argument.
Once outside, Clift looked in his friend's car boot and was then seen with a screwdriver.
A witness saw Mr Barton on the ground and bleeding from his head and Clift ran off, discarding the screwdriver and a top he had been wearing, the court heard.
Mr Barton was found to have two puncture wounds, one of which had passed through from the left to the right side of his brain.
He was to spend the rest of his life in hospitals, rehabilitation units and at home where his mother had an extension built so her son could be cared for, the court heard.
In July 2009, he suffered a cardio respiratory arrest after a procedure to reinsert his feeding tube and died.
Sentencing Clift to life with a minimum term of six years, Mr Justice Saunders said: "Many lives have been affected by that moment of madness, caused I have no doubt by drinking excessive alcohol.
"Anybody who heard the evidence in this court was struck by the enormous waste and futility of what happened."