End of 'year and a day rule' led to Clift murder charge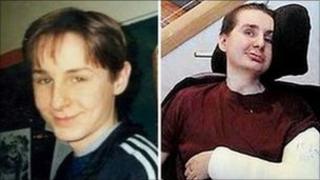 Screwdriver killer Leigh Clift was brought back to court and convicted of murder following a change in a the law allowing him to be charged with a different offence over the same attack on Milton Keynes man Jonathan Barton.
Clift, 29, of Lincolnshire Close, Bletchley, was found guilty at Luton Crown Court of murdering Mr Barton and sentenced to life imprisonment with a minimum term of six years.
Clift was originally jailed in 2002 for causing grievous bodily harm to Mr Barton, who was 19 at the time of the attack.
However, after his victim died in 2009 from the injuries he sustained in 2002, Clift was charged with murder in January 2011.
Sentencing him to a life term with six years before he can be considered for parole, Mr Justice Saunders said: "The main mitigation is that he has already served a long prison sentence."
Clift's second trial was possible because of the Law Reform Act 1996 which abolished the "year and a day rule" which stated that an act was presumed not to have caused a person's death if more than a year and a day elapsed before death.
Semi-vegetative state
Criminal lawyer Simon Nichols said: "The law was changed in 1996 and that was just common sense based on medical advances.
"Now if you are charged with the offence of murder after a year and a day, and it is shown that you directly caused the death of a person, then it is murder."
Mr Barton was stabbed in the head with a screwdriver in Milton Keynes in September 2000.
The wound caused a "catastrophic brain injury" which left him in a semi-vegetative state, unable to move or speak.
He spent the rest of his life in hospitals, rehabilitation units and at home, where his mother had an extension built to accommodate him with his special needs.
Clift was originally convicted of causing grievous bodily harm with intent and was given a 10-year sentence, five-and-a-half years of which he spent in custody.
However, in July 2009, Mr Barton died after suffering a cardio-respiratory arrest following a procedure to reinsert his feeding tube.
Medical experts concluded that there was a direct link between the attack and his death and so Clift was charged with murder.
Jonathan's mother Kim Barton gave up work to look after her son and "put all her energy" into caring for him.
'No winners'
After the verdict, she said she was relieved the ordeal was over.
"It's been a long, long time, it's been 11 years, but for us it's just been one long day," she said.
"Now we just want Jonathan to rest in peace. We have closure and now we just want to build our lives, even though we know we're going to live with a gaping hole that Jonathan has left.
"There are no winners. Mr Clift has a family now so it was very difficult for us for his partner to be in court and to be so upset."
Investigating officer from Thames Valley Police Tim Pollard said: "I would like to thank the jury in this trial for considering all the evidence, including some complex medical evidence, before coming to their verdict.
"I would also like to pay tribute to the Barton family who have acted with dignity throughout the case and trial, having had to listen to some graphic details."