Bletchley Park wins £4.6m Heritage Lottery Fund grant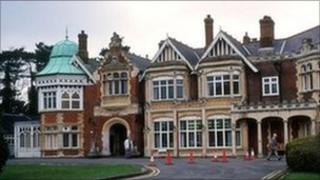 The home of World War II codebreakers at Bletchley Park has been awarded a £4.6m grant from the Heritage Lottery Fund (HLF).
The investment will enable the restoration of key codebreaking huts and create a world-class visitor centre at the Buckinghamshire site.
The HLF said new exhibitions and interactive displays will bring Bletchley's story alive.
Bletchley Park was the wartime home of the Government Code and Cypher School.
'Ground-breaking work'
Carole Souter, chief executive of HLF, said: "The complex story of Bletchley Park revolves around a group of dedicated men and women who quietly worked away with no expectation of public recognition.
"Now, more than 60 years later, the trust will bring to life fascinating tales of the ground-breaking work that took place in this sprawling country estate.
"I cannot think of a better use of Heritage Lottery Fund money than to support this project and, in so doing, honour the memory of all who were involved."
A spokesman for the Bletchley Park Trust said: "The ambition of the Bletchley Park Trust is to complete the restoration of the site, and to tell its story to the highest modern standards."
The HLF has also announced a grant of £1.4m to restore Newcastle's 13th Century monument the Black Gate, bringing the currently vacant building back into public use as a heritage, education and community space.
And it has also given its initial backing to plans to restore the 12th Century Delapre Abbey in Northamptonshire with £250,600 of development funding.