Bedfordshire slavery investigation: Three more arrested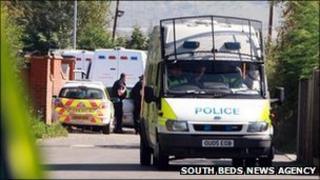 Three more people have been arrested in an investigation into alleged slavery offences at a travellers' site near Leighton Buzzard, Bedfordshire.
Johnny Connors, 30, appeared before South Bedfordshire Magistrates' Court, Luton on Wednesday.
He was charged with one count of conspiracy to hold someone in servitude and one count of conspiracy to require someone to perform forced labour.
Police said he was remanded in custody until 5 December.
Two other people have been arrested after agreeing to go to Luton police station to talk to detectives.
A 51-year-old man was released on police bail pending medical treatment and a 61-year-old woman was bailed to return to Luton Police Station on 31 October.
Mr Connors is another brother of James (Jimmy) Connors, 23; Tommy Connors, 27, and Patrick Connors, 19, who were all charged with slavery offences and remanded in custody last week.
The arrests follow a police raid at the Greenacre site, Great Billington, near Leighton Buzzard, on 11 September.
Twenty-four men were found living in cramped conditions in caravans, sheds and horse boxes during the raid.
Josie Connors, 30, has also been charged with four offences and bailed to appear before Luton Magistrates' Court on 22 September.