Milton Keynes shopping centre hosts sculpture show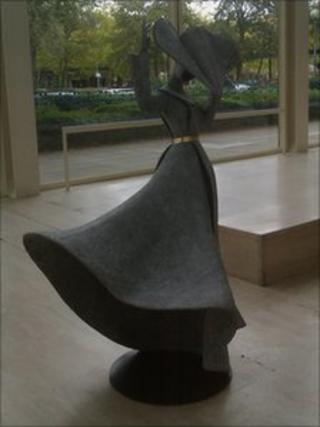 A major sculpture exhibition has opened in thecentre:mk to coincide with the launch of a charity to look after public art in Milton Keynes.
The Public Arts Trust, Milton Keynes (PATMK) has been set up as both custodian and conservator of publicly-sited art in the town which currently numbers over 200 pieces.
The charity will also look to commission new works.
The 26 sculptures spread across more than 120m (390ft) in the shopping centre exhibition include works by Royal Academicians Michael Sandle and Philip Jackson as well as Thomas Ostenberg.
The exhibition, which has been curated by Johann Bester from Bedford Street Gallery, is free and will be on display for three months.
Concrete cows
David Stabler, a Trustee of PATMK, said many of the sculptures were by artists who already had pieces of art displayed in the town, such as Nicholas Moreton, whose works The Meeting and The Conversation can already be seen around thecentre:mk.
"The exhibition is to commemorate their work and also to introduce new artists who have not yet had works commissioned in Milton Keynes," he said.
"All the pieces are for sale and some of the commission will go to fund the trust's future work."
Milton Keynes has long been known for its concrete cows, Liz Leyh's world-famous sculptures, but organisers say the new exhibition emphasises that the town is also thought to be home to the UK's largest collection of public sculpture.
In a policy initiated by a Public Art Strategy developed in 2006, it has an obligation to promote its existing public art and commission regular new work.
PATMK said their commitment meant new artwork would always be given the proper maintenance and care to maintain the artist's vision.
Mr Stabler said the charity also aimed to preserve some of the existing sculpture in Milton Keynes that needs attention.
"Many of them have been here for 20-40 years and they have to be looked after and at the moment there appears to be very little money spent on this," he said.
"The idea was that PATMK would take over this responsibility and preserve the artwork."
Ian Michie, chairman of PATMK said: "As budgets for the arts are cut, many have recognised that it is no longer enough to leave the preservation of art, particularly in the local community, to chance.
"This is the thinking behind the new charity. Together we can not only preserve and publicise Milton Keynes' unique treasury of publically-sited art, but encourage new artists to find a home for their most iconic pieces in this iconic cityscape."