Bedfordshire 'slaves' case: Four men charged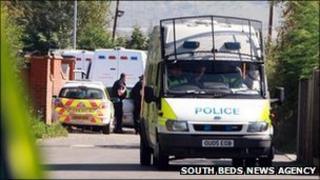 Four men have been charged after an inquiry into men being kept as slaves at a travellers' site in Bedfordshire.
The four men, all from the same traveller family, were arrested when police raided Greenacres near Leighton Buzzard early on Sunday.
The slavery charges are connected to four people found at the site.
Twenty-four men thought to have been held against their will were removed. Nine later discharged themselves from hospital and refused to help police.
The remaining 15 men are still being treated for malnutrition and medical problems.
Tommy Connors, 30; Patrick Connors, 19; James Connors, 34, and James Connors, 23, all of the Greenacres caravan site, have been charged with conspiracy to hold a person in servitude and requiring them to perform forced labour.
They will appear at Luton Magistrates' Court on Tuesday.
Ongoing investigation
Adrian Roberts, head of the CPS Thames and Chiltern Complex Casework Unit, said: "These charges relate to four victims who allege they have been held against their will and forced to live and work like slaves.
"Police investigations into other offences relating to other potential victims at Greenacres are ongoing, further to the police raid on Sunday, 11 September."
A pregnant woman, who was also arrested, has been released on bail.
More than 200 officers raided the travellers' site at Great Billington at 05:30 BST on Sunday.
The move was part of a long-running investigation by Bedfordshire Police which suggested the men were being held in poor conditions and forced to work for no pay.
The men allegedly kept against their will are British and eastern European, plus two whose nationalities are yet to be confirmed.
The youngest was a 17-year-old British boy who has now rejoined his family. The others are aged between 30 and 57.
The British Red Cross said it is providing practical and emotional support.