Bedfordshire 'slaves' case: Escapees triggered raid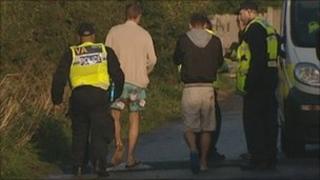 When the men were taken to the Greenacres caravan site their heads were shaved and they were given little or no food.
In a physically and emotionally fragile state, they were allegedly put to work day and night, forced to live in squalor and threatened with beatings if they tried to leave.
In April, some broke free from their alleged confinement and told their story to police.
In the five months since, the Serious Organised Crime Organisation's Human Trafficking Centre has gathered intelligence on Greenacres, near Leighton Buzzard in Bedfordshire.
Their work culminated in a raid early on Sunday, when officers expecting to free eight men found 24 in cramped, squalid and smelly conditions.
After what for some was 15 years of confinement, the men were led away by police to be given food, fresh clothing and emotional support.
Some are so dangerously malnourished that they are being fed a little at a time.
Officers said some men smiled and shook their hands, while others were confused.
Many had been found in locked sheds and filthy caravans, others had been forced to live in dog kennels and in a horse box.
Det Ch Insp Sean O'Neil , from the Bedfordshire and Hertfordshire Major Crime Unit, said: "Some of these people have come covered in excrement, wearing dirty clothes because that's all they were allowed to live in ... these people are institutionalised.
"One person we know has been here 15 years so to him this is normal life".
Musty shed
The men were vulnerable when they were targeted at benefit offices, jobs centres and soup kitchens.
It is believed they were offered the chance to earn £80 a day as labourers but when they reached the camp they were held captive and paid nothing.
Inside the musty shed from where two of the victims were freed, are two metal bunk beds, tucked away in darkness.
Attempts have been made to turn it into a home. A picture of Marilyn Monroe is on one wall, passport photographs are scattered on a worktop and a stained cushion sits on a filthy chair.
The shed stands alongside an empty animal cage and it is overshadowed by an immaculate and very expensive caravan.
On another plot is a tiny caravan, the only noise to be heard inside is flies buzzing around some chicken bones and dried white bread left on the floor. A worn bible sits on a shelf.
Trafficking hub
Travellers at the small site said they did not know anything about the slavery allegations.
One resident at the site said she thought what had happened to the men was: "pretty sick".
But police believe the site is the hub of a multi-million pound trafficking operation that spans beyond the UK.
They said some of the men appear to have been moved to Scandinavia to work laying driveways and it is likely they were transported to other countries in Europe.
Officers will know more once they are able to talk to the victims.
For now the priority is to ensure their welfare. The British Red Cross is involved as are other agencies and the local councils.
What is crucial now for the officers on Operation Netwing is the gathering of evidence.
They will rely upon co-operation from the people they have liberated. Of the 24 set free, nine have left the medical reception centre and will not help police.
Fear is a factor that has to be handled carefully.
But officers are hopeful that the remaining 15 will provide them with detailed statements.
Four men arrested on Sunday are being questioned by police.
A pregnant woman has been released on bail as she is due to give birth soon.