Trestle Theatre looks to future after Arts Council cuts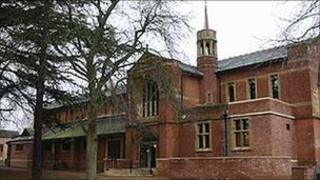 A St Albans arts centre is closing to the public for part of the week, following a 100% cut in its funding.
Trestle Theatre, which runs Trestle Arts Base, lost about £260,000 in this year's Arts Council cuts, making it also unable to run its touring company.
But it is now looking to a new future with a focus on arts provision for young people.
It will also look at bringing a variety of small scale shows for all ages to the theatre.
Following the cut to its core income as part of the government's culture cuts in March 2011, the company had to make 50% of its staff redundant.
It meant that it was not able to run the arts centre in its former capacity so, from September 2011, it will go from being open six days a week to three.
Many popular community classes will still take place there on the days it is open, but other groups have had to find alternative accommodation.
In addition, the touring company will no longer have the resources to make and tour two new productions a year, so will concentrate on collaborations instead.
Lively venue
Artistic Director Emily Gray said: "We are determined to keep Trestle Arts Base alive as it is such a well loved venue.
"We need people in the district to come and take part in our activities and see the performances and in return we will give all we can to make this a culturally alive and exciting place to live."
Trestle was created in 1981 by students from Middlesex University who developed a style of theatre using masks, puppets and music.
It soon became one of the UK's leading touring theatre companies and moved into the 100-year-old former Hill End Hospital Chapel in St Albans which became Trestle Arts Base in 2002.
The centre has since grown into a lively arts venue which in the past 12 months has engaged over 30,000 people in the arts through a variety of professional shows, classes and community events.
In deciding how to cut back public output, the company has looked to its strengths.
"We had to look at what we were good at and what we felt confident at delivering," said Ms Gray.
"Our core work centred a lot around young people, especially secondary age, so that will be our focus, but there will also be activities for younger ones and those up to the age of 25."
To do this the company has joined forces with professional storyteller Kathryn Holt and local professional theatre company Tip of the Iceberg to re-launch their StoryTent and youth theatre programmes.
Strong partners
However, while the company has had to "rein back" on adult provision, it does not mean that other ages will not be catered for.
"We are working with teachers and youth workers, training [them as] arts practitioners, and we also hope that the shows we bring in will appeal to older people," added Ms Gray.
It is currently working with St Albans District Council on a programme of shows to bring in and is set to be the only theatre in the city commissioning small scale professional work.
The ambition is to get back to full capacity again and the hope is that with good strong partners in the county, the venue can eventually develop into a new arts youth centre.
"This is the start of a new phase for Trestle, we are starting small but hope to build it up quickly," said Ms Gray.
"We have a great core staff team who absolutely want to make it work."