Psalter returns to St Albans Cathedral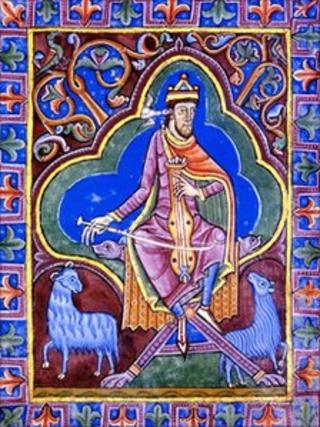 A copy of an ancient religious book, created in St Albans almost a thousand years ago, has been given to the city's cathedral.
The Bishop of Hildesheim in Germany presented the St Albans Psalter, a book containing psalms used in daily worship, at a ceremony on Tuesday.
The original St Albans Psalter was made in the abbey between 1123 and 1143.
It is believed to have been a gift for Christina of Markyate from Geoffrey of Gorham, Abbot of St Albans.
The book is regarded as a masterpiece of English Romanesque art with 46 pages of illustrations and the earliest known image of Saint Alban's martyrdom.
'Greatest treasure'
Jeffrey John, the Dean of St Albans, said: "It is easy to forget that St Albans was once England's leading place of learning. The St Albans Psalter is the greatest treasure that was produced by the famous scriptorium of St Albans Abbey.
"We are profoundly grateful to the Bishop of Hildesheim for making us a gift of this extremely valuable and beautiful reproduction. It is a great joy that once again this perfect jewel of medieval Christian art will be seen in the place where it was created."
The original Psalter is kept at the Church of St Godehard in Hildesheim. The book presented to St Albans Cathedral is an exact copy, painstakingly reproduced, including hand applied gold leaf.
The St Albans Psalter will now be on permanent display in the exhibition area of the cathedral.