Janmashtami: A celebration on Krishna's birthday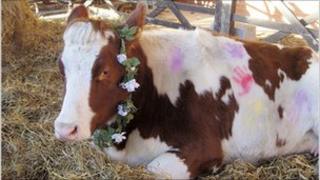 The world's largest Hindu festival, outside of India, is taking place in Hertfordshire.
Celebrating the birthday of Krishna, the event at Bhaktivedanta Manor near Watford, is expected to attract more than 60,000 pilgrims.
The festival will also see the launch of the not-for-profit Ahimsa Dairy Foundation, which distributes organic milk in the area.
"Krishna protected cows as sacred animals and we are delighted to celebrate the cow at this year's festival," said President of the Temple, Srutidharma Das.
"Ahimsa is a very important belief in Hinduism and the cow symbolises peace and prosperity in society.
"When the relationship between humans and cattle is correct everything in the world is in harmony," he said.
Festive spirit
The Manor's farm supplies milk and dairy products from its Meuse Rhine Issel and Dairy Short-horn cows.
No cow, calf or bull is ever killed and all are allowed to live out their natural lives.
The Janmashtami Festival will feature thousands of children with their faces painted blue, many carrying flutes and wearing peacock feathers in their hair, dressing like Lord Krishna as part of the festive spirit.