Bedfordshire hosts UK tug-of-war championships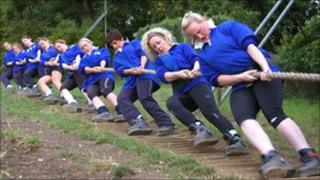 The UK tug-of-war championships take place in Bedfordshire this weekend.
Teams from England, Scotland and Wales will compete against each other at the two-day event, which is being held at Kempston Sports Club.
Bedford Ladies tug-of-war team will represent England women at the championships.
Team member Diana McDonald says the sport is a combination of training and teamwork, requiring fitness and dedication.
"Bedford Ladies have represented England since 1988 in UK, European and World Championships, coming fourth in the Club World Championships in South Africa last year.
"We train hard but have tremendous fun and being part of a team that has to support each other gives everyone a real sense of achievement, especially when competing against the best teams in the world," said Ms McDonald.
Simple rules
The Tug-of-War Association says the sport, which featured in the Olympic Games from 1900 to 1920, is growing in popularity.
"We have seen more and more teams being set-up across the country," said Alan Knott, from the association.
Mr Knott said the basic rules of the game were simple.
"A team consists of eight members. At the front is the lead and at the back is the anchor who can wrap the rope around their body once," he said.
"The team which pulls the rope four metres off the centre line is the winner."
The event is open to the public and is free to attend.