Welwyn Hatfield council pledges anti-incinerator fund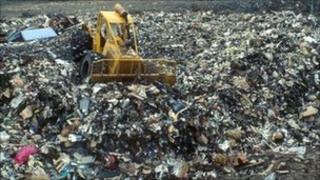 Plans for a new waste incinerator in Hertfordshire have prompted a council to pledge £20,000 to fight its own county council.
Welwyn Hatfield Borough Council has agreed a proposal to ring-fence the money for campaign group the New Barnfield Trust, in its legal battle against Hertfordshire County Council's (HCC) plans to build a 180,000 tonne incinerator at New Barnfield near Hatfield.
The money would be given to the group on an ad-hoc basis to pay for legal and professional fees.
Members of the cabinet have recommended that the full council votes in favour of this decision at its meeting in September.
Plans for a new waste incinerator were put forward by the county council in 2008 as much of Hertfordshire's waste was being landfilled.
In 2010, 284,000 tonnes of waste were exported.
HCC said something had to be done to reduce both costs and environmental impact. The new facility is set to save Hertfordshire's taxpayers millions of pounds by avoiding landfill tax.
Derrick Ashley, executive member for waste management, said that it would "potentially save Hertfordshire's taxpayers at least £779m on the cost of waste disposal over the 25-year contract period. This is an annual saving of £31m".
However, all three political parties at Welwyn Hatfield council joined forces to condemn the plans for New Barnfield as a potential site.
Housing Minister and Welwyn Hatfield MP Grant Shapps presented a 2,500-name petition against the plans to HCC early in 2011.
In April 2011 New Barnfield was announced as the preferred site and in July HCC signed a contract with Veolia to build the facility.
Campaigners are against the idea because of the existence of a special needs school next to the site, potential noise and air pollution and lack of infrastructure.
Councillor John Dean, Leader of Welwyn Hatfield council, defended the proposal to spend money to oppose the project.
"This council has opposed the plans for an incinerator in Hatfield since they were first mooted," he said.
"Though we are not opposed to a waste-from-energy solution to managing the county's waste, we are vehemently opposed to its location in the town and our real concerns lay with the potential impact on residents and schoolchildren in the surrounding area."
Community support
Paul Zukowskyj, from the New Barnfield Trust, said it was a good use of taxpayers' money.
"The key for me is that councils are there to support their local communities," he said.
"[Welwyn Hatfield Borough Council] are aware of the really significant opposition from a wide range of the community across Hatfield and are supporting them in a fight that the community feels very passionately about."
Mr Zukowskyj agreed that an alternative to landfill was needed, but said there were better options and better sites than this land, which is already owned by HCC.
"We have already had a number of people including myself saying if it really comes to it we'll lie down in front of the bulldozers because we really feel this strongly that this is the wrong place," he said.
HCC maintains that the Energy from Waste plant, which will burn fuel to generate electricity, provides the best environmental and economic solution to the county's waste problems.
Mr Ashley said: "I don't want to criticise Welwyn Hatfield Borough Council, they have to take their own decisions and be accountable and answerable for those decisions.
"But I think it's worth remembering that whenever you get any kind of large scale development across the county whether it's industrial, housing or any other kind of development, the local community is always very concerned and I fully understand the concerns that are being expressed."
Plans are due to be submitted in November 2011 and if successful, the site is expected to be operational in March 2016.