Cultural Olympiad boat project visits Milton Keynes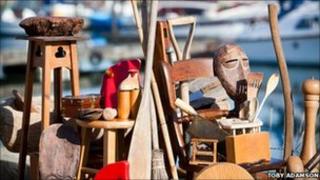 Wooden objects of personal and sentimental significance have been collected from people and communities at an event in Milton Keynes in order to build a "boat of memories".
A 30-foot yacht is being constructed from the donated wood as part of 12 public art commissions to celebrate the London 2012 Cultural Olympiad.
It is led by artists Gregg Whelan and Gary Winters from performance company Lone Twin, who are collaborating with Olympic sailor and boat builder Mark Covell and international boat designer Simon Rogers.
A professional boat building team based at a Sussex marina is using the latest yacht building methods to turn objects such as a statue from Easter Island and even a family's much-used wardrobe into a seaworthy vessel.
At the heart of the project are the stories behind the donations, and in each location that they visit, the team spend time taking photos and hearing the back stories which will then go into a book to be published next year.
On completion, the boat will be sailed around the south east coast as part of London 2012.
'Under wraps'
The boat will also visit landlocked Milton Keynes, although how that will be achieved has not been revealed.
Donations brought to Midsummer Place in Milton Keynes included a cherry tree from monks at the Peace Pagoda, a sign from pupils at River Meadow pre-school in Newport Pagnell and a piece of floorboard from one of the huts at the Enigma code-breaking station, Bletchley Park.
Simon Greenish, chief executive of Bletchley Park Trust, gave the team a small piece from cottage number three.
"Cottage three is one of the early buildings of Bletchley Park involved in the war, the first Enigma break was made in that building and this floorboard will have been walked on by Alan Turing and Dillie Knox, great codebreakers of World War II," he said.
The boat will be presented in Milton Keynes as part of the IF Milton Keynes International Festival in 2012, a ten day event featuring work from artists around the world.
Festival director Monica Ferguson said: "How the boat will get here is part of the mystery, it's like how do you get a boat into a bottle?
"Milton Keynes is one of the furthest points from the sea so we're keeping it under wraps in terms of how we're going to do it."
Artist Gary Winters said: "This is something everyone can get involved in, whether you're nine or 90-years-old.
"It's an opportunity to see the stuff of our lives, our stories and our experiences come together and create something that will stand as a record of our time."