'Hottest' high street chilli is grown in Bedfordshire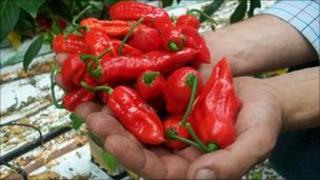 A Bedfordshire farmer said he is responding to an increased demand for "super hot" chillis by growing the world's hottest commercially-grown pepper.
Salvatore Genovese is producing the Bhut Jolokia in Blunham.
It is the first time Mr Genovese, who is thought to be the UK's largest chilli grower, has grown the crop.
He was approached for the task by Tesco after demand for its previously hottest chilli pepper, the Dorset Naga, grew by 200% last year.
Mr Genovese revealed that even though the peppers are hard to grow, high demand meant he had to do it.
He has a total of around 70,000 chilli plants on his farm of which around 1,000 are Bhut Jolokia plants.
"There are a few amateur gardeners growing a few of these plants but no one else grows fresh product on a commercial scale like this," he said.
"It means that those hardcore 'chilliheads' who had only heard about it before will now be able to buy it."
He added: "It is very difficult to grow and takes a long time which is why it's so strong.
"The longer it's on a plant the hotter it is and the Bhut Jolokia has five months from seed to picking as opposed to about three months for milder chillis."
'It hurts'
According to the Chillis Galore website, the Bhut Jolokia has a heat reading of just over one million Scovilles, the unit used to measure chilli pepper heat.
It has surpassed the potency of the Dorset Naga which has a reading of 923,000 Scovilles.
"It does hurt [to eat]," added Mr Genovese.
"I took a box to a local pub which was full of men saying 'it's not a problem, we can eat any chilli' so I chopped them up into miniscule pieces and there were guys on the floor in tears. It destroys people, the hype around it is correct."
This is borne out by exotic vegetable buyer Harry Jones from Tescos who will be stocking the chilli. He has visited Mr Genovese several times to acclimatise his palate as he has to try all the vegetables he buys.
"It's an incredible sensation as the heat continues to build for a good 30 seconds and all I can say that it's not for the faint-hearted," he said.
Chillis are usually thought to be more suited to hotter climates but Mr Genovese has been growing many varieties in the county for 12 years.
He said the plants are housed in greenhouses that require no artificial light and minimal artificial heat, letting the "summer sun do its work".
He revealed that demand has never been higher for chillis in general and recently produced 750,000 chillis in six days which is a record for his farm.
"We supplied about 10 million chillis last year and this year it's set to be even more, he said.
"It's crazy at the moment, demand is increasing and the workload here is incredible."