Michael Gilbert: Police lagoon victim probes 'flawed'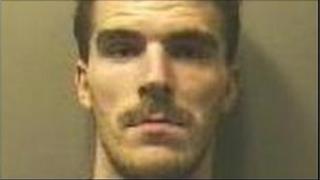 Three police investigations involving a Bedfordshire man who was murdered, decapitated and dumped in a lake were "flawed", the police watchdog has said.
Michael Gilbert, whose body was found in the Blue Lagoon, in Arlesey, in 2009, had been kept as a slave and tortured for his benefit money.
Six people were jailed in April 2010 over his murder which followed years of abuse by the Watt family in Luton.
The Independent Police Complaints Commission blamed human error.
Mr Gilbert's mother had contacted the IPCC in July 2010, alleging police had failed to investigate three incidents involving her son.
'Not believed'
These were an assault in Luton in 2002 and abductions in Cambridgeshire in 2007 and in Lancashire in 2008.
The head of the IPCC, Rachel Cerfontyne, said: "We looked at specific allegations that the police did not investigate three incidents involving Michael and the Watt family.
"We have found that on each occasion investigations had taken place, but were flawed due to misinformation, failures in communication and human error."
A separate investigation by Luton Safeguarding Vulnerable Adults Board recommended changes in training and information-sharing between agencies.
Both reports catalogued the difficulties police, social services and other agencies experienced in dealing with Mr Gilbert.
The IPCC 's report highlighted instances of inaccurate information being passed "in good faith" by social services, a GP and Luton and Dunstable hospital.
The investigation concluded that this led officers to disbelieve Mr Gilbert's reports of abuse and torture.
Three abductions
In January 2002 a member of Mr Gilbert's family had called Bedfordshire Police to report he had been cut with a knife and shot with a pellet gun.
A statement was taken and three members of the Watt family were named as the offenders, but despite efforts by police to investigate, their calls were not returned and Mr Gilbert did not turn up for a meeting, the IPCC found.
There was no record of him going to hospital when he said he had and social services told detectives he had a history of making false allegations.
The IPCC found that it was understandable that detectives believed Mr Gilbert had invented the causes of his injuries.
In June 2007, Mr Gilbert had been with a friend in Cambridge when he was approached by James Watt - one of his killers - and got into a car with him.
His concerned friend contacted police and efforts were made to trace him.
However, on 11 July he was arrested on suspicion of rape and questioned by Bedfordshire Police.
Cambridgeshire Police were told he had been arrested and no claims of abduction had been made so the force closed its missing person and abduction inquiry.
The IPCC said Mr Gilbert was released and told a Bedfordshire detective he had been abducted but would not co-operate with any investigation. The allegation was not passed on to Cambridgeshire Police.
In the third incident, in January 2008, Mr Gilbert was abducted from outside a job centre in Blackburn when he was with his girlfriend's brother.
His girlfriend's family later received several text messages from Mr Gilbert, as well as speaking to him.
They informed police on 1 February. Officers visited the girlfriend's house and took details of the incident and a contact number for Mr Gilbert.
But the wrong number was written down and when it was dialled the man who answered said he was not Michael and did not know him.
Officers closed the call thinking he was avoiding contact with the informant's family.
Watt, 27, his girlfriend Natasha Oldfield, 29, and his brother's girlfriend, Nichola Roberts, 21, were convicted of his murder, in April 2010.
The trial heard Mr Gilbert had been hit with bats, shot and stabbed, with the beatings often filmed on mobile phones.
Mr Gilbert's body was wrapped in layers of black bags and cling-film and placed in a builder's bag, stowed in the boot of Watt's car and driven to the lagoon where it was dumped.
Mr Gilbert's headless corpse was spotted by two anglers fishing at the lagoon.