Hertfordshire appeal after nesting buzzard shot dead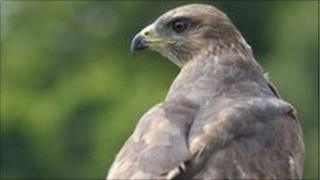 A rare bird of prey has been shot and killed in Hertfordshire.
The female buzzard had chicks which may have also died as a result of their mother's death, police said.
The bird was killed with a shotgun on the edge of Wheathampstead, Sandridge and old Welwyn village.
Sgt Jamie Bartlett appealed for help over the serious offence and said the bird did not die instantly and may have flown up to 984ft (300m) towards a nest containing her young.
The wildlife officer added: "It is really sad that this buzzard's dependents may not be able to fend for themselves and may have died as a result of their mother being shot.
"This is a serious wildlife offence and we are appealing to anyone who was in the area at the time or may know who is responsible to come forward.
"It may be that this was an accident and the person responsible did not mean to shoot the buzzard - either way we would like to hear from you.
"We need to do everything we can to protect our wildlife from harm so that we can see them in their natural habitat for years to come."
It is believed the buzzard was shot on end of 28 May but police have only just released details.