Mark Niel appointed Milton Keynes' first Poet Laureate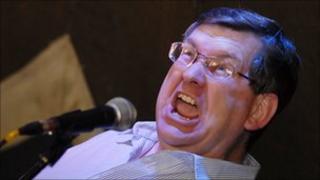 Milton Keynes Council has appointed its first Poet Laureate.
Mark Niel has been awarded the title in recognition of his efforts to promote poetry and local poets across Buckinghamshire.
The title will see Mr Niel perform a ceremonial role at civic events throughout the year.
Milton Keynes Mayor Debbie Brock said the appointment was important for the town and described Mr Niel as a "brilliant poet".
Councillor Brock said: "Mark is a great ambassador for Milton Keynes and a brilliant poet, he engages with many schools and groups across the city.
"I look forward to reading about civic life in the future represented in verse."
Critical acclaim
Mr Niel, from Pennyland in Milton Keynes, took to the stage as a poet for the first time three years ago.
Since then, he has gone on to give more than 200 performances, winning "poetry slams" and critical acclaim with his comedy performances.
"This is a great honour which took me completely by surprise," he said. "I've always been proud to represent Milton Keynes and now I can do so officially, that's a wonderful feeling.
"I hope to encourage others to read, write and listen to more poetry and continue to find opportunities to showcase the wealth of talent from our town."