Radio's Paul Barnes wins Parliamentary Jazz Award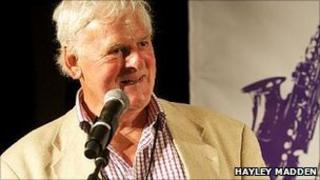 A BBC local radio presenter has won a prestigious jazz award.
Paul Barnes was named broadcaster of the year at the 2011 Parliamentary Jazz Awards on Tuesday.
The ceremony, hosted by broadcaster Paul Gambaccini, was held at the House of Commons and attended by top names including Cleo Laine and Jamie Cullum.
"I thought if I get a nomination and it never goes any farther than this I'll be pleased," said Mr Barnes. "I never anticipated winning."
The broadcaster, who lives in Norwich, was one of five presenters nominated in the category.
The Late Paul Barnes show, which is transmitted across the East of England each Saturday at 2300 BST, has evolved into a jazz programme from a phone-in show over the 15 years that the Coventry-born broadcaster has been presenting on BBC Radio Norfolk.
Mr Barnes said his success can be attributed to the quality of the music available and his dedicated band of listeners.
"Good music makes good jazz broadcasters," he said.
"I also have great listeners. They are loyal, enthusiastic, knowledgeable and wonderfully generous to the extent where they will send me rare recordings so they can be shared with others."
Mr Barnes' local MP Simon Wright attended the awards ceremony to lend his support.