Police officer delivers foal in Hitchin field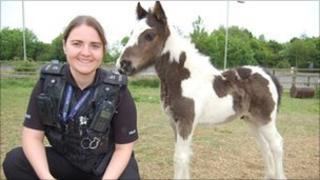 A horse-loving police officer safely delivered a foal in a Hertfordshire field after finding its mother on the ground in distress.
After noticing the mare lying on the ground in the field near Hitchin, Pc Natalia Allodi decided to take a closer look.
She called her partner Pc Steve Penhall for help and two hours later delivered the healthy colt.
"It was one of those 'get on with it' situations," she said.
Ms Allodi, who has experience working with horses, described the incident as one that she will never forget.
"I was really elated, obviously you deal with all sorts in this job, but this was so satisfying," she said.
The owner, who does not want to be identified, said the mare was not due to give birth for at least another week.
"It was lucky Natalia drove past when she did - she literally saved both their lives," they said.
The colt, which was born in March, has been named Little Lucky Natty after the officer.