Luton 'honoured' to be part of 2012 Olympic torch relay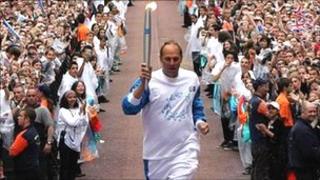 London 2012 organisers have announced that the Olympic torch is to visit Luton in Bedfordshire as part of its relay journey around Britain.
The flame will arrive for an evening of celebration, showcasing the town's heritage and culture, on 8 July 2012.
Council leader Hazel Simmons said it would be a fantastic event for Luton.
"Everyone is tremendously honoured and excited, it's a fantastic opportunity to raise Luton's profile, along with our bid for city status," she said.
"It will also demonstrate the positive diversity among our communities and the regeneration that is taking place, and really put Luton on the map."
Councillor Simmons also revealed that the town's 2012 carnival and Mela would be moved to coincide with the torch relay.
"Our plans are still at a very early stage, but already we can promise an amazing weekend for Luton like none other in its long and proud history," she said.
'Shine a light'
During its 70-day journey across the UK, the flame will be carried by 8,000 torchbearers as it makes its way to the opening ceremony of the Games.
Organisers say the torch will be within a one-hour journey for 95% of the population of the UK, with entertainment, shows and concerts marking its arrival at each stop.
Sebastian Coe, Chairman of the London Organising Committee of the Olympic and Paralympic Games, said: "The Olympic flame will shine a light right across every nation and region of the UK and showcase the very best of who we are and where we live.
"The first locations on the route confirmed today (Wednesday) give a flavour of the reach the Olympic torch relay will have around the UK and how extensive the opportunity for starting to celebrate the London 2012 Olympic Games will be."
The flame will enter the Olympic Stadium during the opening ceremony on Friday 27 July, when the last relay runner will transfer the flame from their torch to the Olympic cauldron.
It will then continue to burn until it is extinguished on the final day of the Games.