Network Rail pleads guilty over Potters Bar crash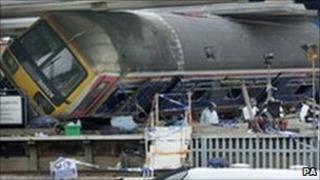 Network Rail has admitted breaching safety regulations over the Potters Bar train crash which claimed seven lives.
Faulty points were to blame for the May 2002 crash in which a London to King's Lynn express derailed just outside Potters Bar station.
Six passengers were killed and a pedestrian died after being hit by debris. More than 70 people were hurt.
The plea was entered at St Albans Crown Court and the case was listed for sentencing on 12 May.
The maintenance company involved was Jarvis while the overall responsibility for the track lay with Network Rail's predecessor company, Railtrack.
Last year, the Office of Rail Regulation (ORR) launched proceedings against Jarvis and Network Rail under the Health and Safety at Work Act.
Both companies were accused of failings over the installation, maintenance and inspection of adjustable stretcher bars which keep the moveable section of the points at the correct width for train wheels.
Earlier this month, the ORR said it was not proceeding with the prosecution of Jarvis which went into administration last year.