Disabled woman jailed for Milton Keynes fire killings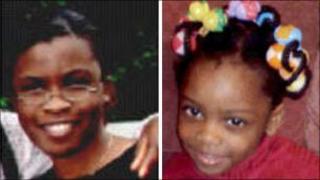 A disabled woman has been jailed for 12 years for the manslaughter of a mother and daughter in a fire.
Bola Ejifunmilayo, 29, and her daughter Fiyin, three, died at Fishermead Boulevard, Milton Keynes, in September.
Barbara Zhanje, 48, of Kettering, Northants, had denied two counts of manslaughter at St Albans Crown Court.
She started the fire to get back at an ex-boyfriend in a spiteful act that led to the deaths of two innocent people, said Judge Stephen Gullick.
Angry over ex-boyfriend
The court heard Zhanje set fire to a home in Fishermead where her ex-boyfriend lived.
Ms Ejifunmilayo and Fiyin lived in a flat upstairs and could not escape the flames.
Wheelchair-bound Zhanje was found guilty of manslaughter and arson with intent by a majority of 10-to-2.
The jury heard the fire ripped through the first and second floors of the house in the early hours of 5 September last year.
The two victims from Nigeria, who had lived in a second-floor room for less than a month, died from smoke inhalation.
Their bodies were not found until the following day because firefighters and investigators wrongly believed all the seven people who lived at the house were accounted for.
Zhanje, of Mill Road, came to the UK from Zimbabwe nine years ago and had worked with children with learning difficulties.
In March last year she was involved in a road accident in which she broke her pelvis, femur and elbow and was left wheelchair bound.
She was angry at not being able to contact her former boyfriend Ananias Jumbe who was with his new girlfriend in Leeds.
After drinking half a bottle of wine at a friend's house in Milton Keynes she went to Mr Jumbe's home.
Her banging on the door just after midnight woke a resident who was told by Zhanje, "I just want to break the door and get my things because he's my partner and he's cheating on me".
Less than two hours later one of the other people in the house was woken by the smell of smoke and saw flames coming up the stairs from the first floor where Jumbe lived.
She dialled 999 and a resident on the ground floor got out after hearing someone shout fire.
No remorse expressed
Prosecutor Ann Evans said firefighters were at the scene in 10 minutes and the resident from the other second-floor room, Muni Elmi, was taken to safety by ladders.
Forensic evidence matched glass from Jumbe's door to glass fragments found on Zhanje's clothes.
Defence barrister Niall Quinn QC said Zhanje had been "self-absorbed" that night.
Judge Gullick said: "It is clear you were determined to find out what he was up to.
"When you failed, you decided to teach him a lesson. It was a spiteful act.
"You caused two innocent people, one a three year old child, to lose their lives.
"You took no steps to alert anyone to what you had done. This is not a case where you have expressed remorse."