Bodies 'missed' after fatal Milton Keynes house fire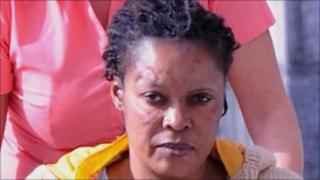 The bodies of a mother and daughter who died in a house fire in Milton Keynes were not found by investigators during an initial search, a court has heard.
Bola Ejifunmilayo, 29, and her daughter Fiyin, three, died in the fire in Fishermead Boulevard in September.
Barbara Zhanje, 48, of Mill Road, Kettering, is accused of starting the fire out of anger with her ex-boyfriend who lived in the house.
She denies two counts of manslaughter at St Albans Crown Court.
Ms Zhanje also denies one charge of arson being reckless as to whether anyone's life would be endangered.
Mistaken identity
The court heard Ms Ejifynmilayo called 999 during the fire and said her and her daughter could not breathe, but they were mistaken for a mother and child who escaped from the fire in the early hours of 5 September.
The jury was told that "confusion" meant the bodies were not found until the following day.
A six-hour search was carried out after the fire but the rear second floor, where Ms Ejifunmilayo and Fiyin lived, was deemed unsafe for investigators to enter.
Two fire officers looked through the window of their bedroom but did not see their bodies inside.
Ian Taylor, a group manager with Buckinghamshire Fire and Rescue Service, said: "There was a great deal of confusion over the information."
He and his colleagues, station manager Paul Holland and two scenes of crime officers from Thames Valley Police, had been told everybody had been accounted for, he said.
Post-mortem examinations established the pair died from smoke inhalation.
When questioned by Niall Quinn QC, for the defence, Mr Taylor said he believed the preliminary cause of the fire was an iron that had been left on in a first floor room.
The jury has been told the Zhanje had made numerous calls to her boyfriend, who is known as Jumbe and was in Leeds on the night of the fire.
She was seen banging on the door of his room and then leaving the scene when the fire began.
The trial continues.