Book helps children understand epilepsy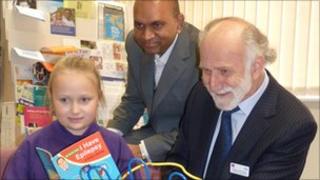 An innovative new book to help children come to terms with epilepsy has been launched in Bedford.
My Doctor Says I have Epilepsy - A Child's Journey has been written by Bedfordshire Community Health Services paediatricians Professor Frank Besag and Dr Chinia Yemula, with a foreword by Epilepsy Action.
It is aimed at children as young as six, to help them understand the condition which affects over 400,000 people in the UK.
The book tells the story of "Jack", a nine-year-old boy who has epilepsy and takes readers on his journey. It explains what causes the condition, and the medicines that he takes to help control it.
It uses an illustrated story format, with fun and humour, and contains activities including puzzles and a word search to engage the interest of the young readers.
Co-author Dr Yemula explained the idea behind the publication.
He said: "Children love reading books. They learn about so many things in life from books and we felt it was a good medium to explain about such a complex condition as epilepsy.
"I took it to children at Newnham Middle School and they loved reading the book. They enjoyed it so much and one of the comments from a child was that they liked the fact that it didn't use complicated scientific words, it just used basic words they could understand."
Nine-year-old Anastasia, who has epilepsy, also gave her approval.
"It was easy to read and I liked the pictures," she said. "My friends will see it is not such a scary thing."