Viscount Trenchard's son jailed for Tesco fraud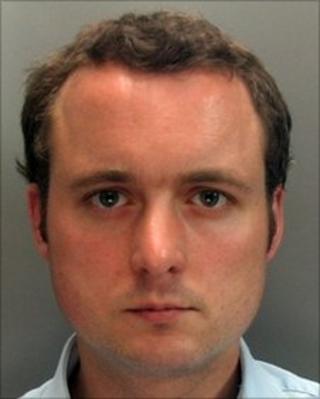 A viscount's son has been jailed for 30 months for using his company credit card to defraud Tesco out of £355,000.
Alexander Trenchard, 32, the eldest son of Viscount Trenchard, admitted theft and fraud by false representation.
While in the £70,000-a-year post of Tesco corporate affairs manager he used the card to pay off debts incurred by a musical festival at the family seat, Standon Lordship in Hertfordshire.
He had become "obsessed" with the event, Aylesbury Crown Court heard.
Over 10 years, the former page boy to the Queen had developed the annual summer festival near Ware from his birthday garden party into "Standon Calling", attended by people from across the UK.
'Thoroughly ashamed'
When the 2007 event made a loss, he began using the company credit card to obtain £196,000 to pay the bills.
Kevin West, prosecuting, said Trenchard had also used "cut and paste" techniques to temporarily increase the limit on the card from £6,000 to £40,000 over a 21-month period.
The court heard the total loss to Tesco reached £355,000, which has since been paid back to the company by Trenchard's parents.
Mr West said the offending was uncovered by a 2010 audit, after which Trenchard was interviewed by Tesco and police and made a full admission.
Patrick Gibbs, defending, said Trenchard had committed a "serious breach of trust" which made him "thoroughly ashamed".
The court heard Trenchard will have to repay his family.
He is the heir to the viscountcy and will eventually succeed his father Hugh Trenchard as the 4th Viscount Trenchard.