Building collapses in Berkhamsted High Street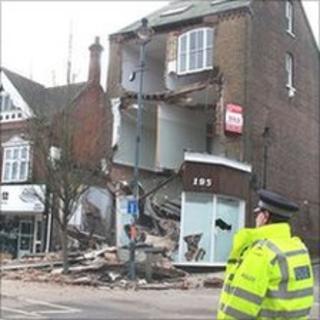 A town high street in Hertfordshire has been closed after a building collapsed during the night.
Firefighters at the scene in Berkhamsted thought a car may have struck the property but the council said that was not the case.
A structural engineer from Dacorum Borough Council said the collapse was due to a structural fault with the building.
No-one was injured in the incident but the town's High Street was closed.
A spokesman for Hertfordshire Fire and Rescue Service said there were no gas or electricity problems.
The building had once been a men's outfitters.