Stevenage player punched in FA Cup game over girlfriend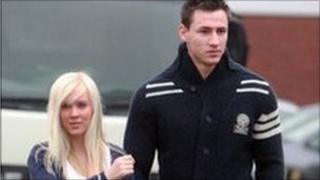 A man ran on to a football pitch after an FA Cup game and punched a player who had previously gone out with his girlfriend because he had "not treated her correctly", a court has heard.
Robert Fitzgerald, 24, was filmed by TV cameras punching Stevenage defender Scott Laird at the end of the game against Newcastle United on 8 January.
Magistrates in Stevenage heard Fitzgerald also threw a partly-eaten burger at Mr Laird at one point.
Fitzgerald admitted common assault.
He also pleaded guilty to a charge of entering the field without lawful authority.
Fitzgerald, of Colts Corner, Stevenage, will be sentenced on 17 February.
Magistrates heard how fitness instructor Fitzgerald had been angry about the way Mr Laird had treated his girlfriend Jade Coles, 24, in a previous relationship.
The court was shown TV footage from the end of the match, which Stevenage won 3-1.
As cameras focused on the winning team, Fitzgerald was seen swinging a punch into Mr Laird's face.
Fitzgerald was promptly banished from the Stevenage ground, but the court heard he handed himself into police shortly afterwards.
'Misplaced loyalty'
Phillip Mansfield, prosecuting, told the court how Fitzgerald had had a grudge against Mr Laird.
The punch left the player with bump on the side of his face and little recollection of how he got back to the changing room.
Mr Mansfield urged magistrates to hand Fitzgerald a football banning order which would stop him from attending any match.
Jennifer Browne, defending, said the player's injury was "on a minor scale" and was "only one punch".
She said: "The injured party had a relationship with Mr Fitzgerald's current girlfriend some time ago, but my instructions are that he did not treat Mr Fitzgerald's current girlfriend correctly.
"We can term it as misplaced loyalty to his current girlfriend."
Magistrates were also told that in 2005 Fitzgerald had been jailed for six-and-a-half years for inflicting grievous bodily harm. He was released from prison in 2008.
Dr Seymour adjourned the case for reports and said he would consider all sentencing options.
Fitzgerald was granted bail, on condition that he had no contact with Mr Laird or any employee of Stevenage Football Club.
He must not attend the ground and he must not go to any football matches between now and the date of sentence.