IPCC probes Luton park siege shooting case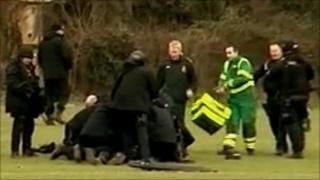 An independent watchdog is looking into the fatal shooting of a man during a police stand-off at a park in Luton.
Idi Atiba, 31, suffered fatal chest injuries when a shot was fired on Leagrave Common on Monday.
It followed a siege lasting more than 15 hours, which began when armed officers found him in the park on Sunday night.
The Independent Police Complaints Commission (IPCC) is appealing for witnesses to the incident.
Plastic baton round
It said police responded to a caller who had concern for Mr Atiba's welfare and said he had a firearm.
They found him in the park at 2030 GMT, set up a cordon around the scene and negotiated with Mr Atiba throughout the night and morning, the IPCC added.
A shot was discharged shortly before noon and, at this stage, it is understood that a plastic baton round was fired by a police officer immediately afterwards, the IPCC said.
Ambulance staff and police officers gave medical care to Mr Atiba but he was pronounced dead later in the afternoon.
IPCC investigators have begun to gather evidence including reviewing footage of the events, viewing police logs and examining the initial accounts from police officers involved, it said.
A shotgun carried by Mr Atiba and the police baton gun have been removed for examination.
'Negotiated patiently'
IPCC Commissioner Rachel Cerfontyne said: "This was a very sad outcome for all involved and I send my condolences to Mr Atiba's family and friends.
"It appears police officers negotiated patiently with Mr Atiba over a very protracted period.
"We have begun an independent investigation to assess whether police did all they reasonably could under these difficult circumstances to resolve the situation peacefully.
"We would be grateful for anyone who witnessed the events first hand or has relevant information to contact the IPCC so that we can gain as full an account as possible as to what exactly happened."