Daily Express newspapers 'moving printing to Luton'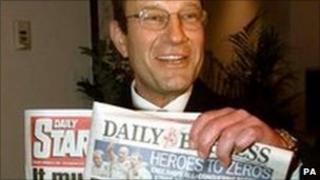 The Daily Express newspaper group is moving its print works out of London to Luton, an MP has said.
Luton South MP Gavin Shuker has told BBC Look East that Express Newspapers has gained planning permission for a printing press in the town.
The new print works would employ 450 people, the Labour MP said.
Mr Shuker said Express Newspapers was also looking at moving editorial staff to the Luton site at the former DHL warehouse near Luton Airport.
Mr Shuker said: "We are very happy to have a national newspaper printed in Luton."
The Daily Express, Daily Star and OK! magazine are owned by Richard Desmond.
Mr Desmond acquired the Express titles in 2000.
Express Newspapers refused to comment at this stage.