E-fit of Milton Keynes attacker released by police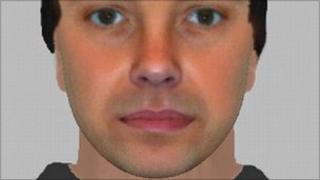 An E-fit of a man wanted in connection with an assault and a sexual assault on two women in Milton Keynes has been released by police.
The first incident happened on 31 December when a 44-year-old woman was grabbed by the arms by a man as she was jogging along the Redway in Monkston.
The second happened on 10 January when a girl, 14, was walking home from school from the V10 towards Woolstone.
She was grabbed from behind and sexually assaulted.
The man is described as white, in his late 20s and of average build with an Eastern European accent.
He was wearing a dark woollen hat, a dark jumper and jeans.
Det Con Darren Street of Thames Valley Police said: "Due to the similarity in the descriptions of the offenders and the times and locations of the offences, we believe this is the same man.
"The motive for the first offence is unclear.
"However it would appear that the victim screaming scared the offender off.
"I would stress that at this stage these offences are not being linked to the two other sexual assaults which happened on Sunday, however we are keeping an open mind."