Benefit cap puts pressure on housing in Luton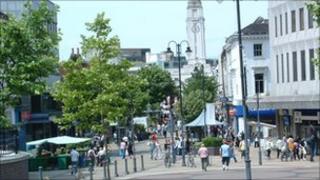 A Bedfordshire housing association has expressed concern at plans which could see families move from London to Luton as a response to a cap on benefits.
The government's £400-a-week limit on housing benefit for private rentals is due to begin from April.
The Aldwyck Housing Association said that due to the cap some councils are relocating people to Luton, which will put pressure on waiting lists.
The government said the cap was to prevent excessive benefit claims.
The government cap brought concern that high rental prices in London will mean some families are forced to move, because of the shortage of homes within the benefit limit.
'Added pressure'
A BBC survey found that 13 councils were already rehousing people outside the city.
One of them is Waltham Forest, which is moving people to Luton.
Harj Singh, the chief executive of the Aldwyck Housing Association, told the BBC Politics Show in the East the plans for the cap will put pressure on the rented sector in Luton.
"I think generally there will be a movement from London into towns like Luton, which is actually only 30 miles away," he said
"That will add to pressure on waiting lists here. There are currently 5,000 people on the housing waiting list.
"We build no more than 150 new homes in Luton a year, so I think that will in itself bring additional pressures."
Housing Minister Grant Schapps said: "What we want to do is get rid of the £30,000, £40,000 and £100,000 housing benefits cases, which are completely unfair on the taxpayer.
"There will still be nearly a third of properties in any given area available for people to get through housing benefit.
"So this is not, as has been described in some of the media - an incredibly draconian change.
"In actual fact the housing benefit bill, which over the last 10 years went from £14bn to £21bn will carry on going up to £23bn.
"We just want to check that rise so that it doesn't get even higher and that's the simple change we're making.
"It certainly won't mean that people will have to move very much around the region and in any case everyone has to make a choice about where they live."
The Politics Show will be broadcast on Sunday at 1200 GMT.