Letchworth ambulance depot cylinders stolen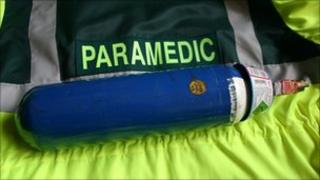 Several cylinders containing a pain-relieving drug have been stolen from an ambulance depot in Hertfordshire.
The East of England Ambulance Service said a store room at Letchworth was broken into late on Wednesday.
Staff based at the station realised Entonox cylinders were missing. Medical director Pam Crispin said the drug had side-effects if used incorrectly.
These include feeling sick and tension pneumothorax, which can be very serious, she added.
Tension pneumothorax occurs when air gets into a layer of the lung and cannot escape, which can lead to the lung collapsing.