Mahmood Ahmad murder trial told of thumb find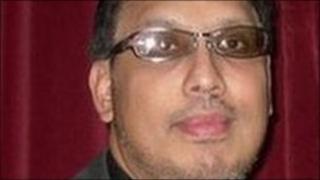 The severed thumb of a Watford man was found three days after he was kidnapped from his Hertfordshire home and killed, a court heard.
Mahmood Ahmad's thumb was found near an office in Ilford, Essex, in March 2010, after possibly dropping from a bird's beak, St Albans Crown Court heard.
No other remains of the 40-year-old restaurant worker have been found.
Five men and a woman are accused of charges connected to the kidnap, false imprisonment and murder of Mr Ahmad.
The court heard that Mr Ahmad's sister Nahid had left her husband Mohammed Riaz in 2008 and gone into hiding after he was violent to her.
The jury was told Mr Riaz, 33, of no fixed address, was behind the murder.
It is alleged that Mr Ahmad, of Radlett Road, was kidnapped and taken to an east London flat where he was tortured in a bid to make him reveal his sister's whereabouts.
He was then killed before his remains were cut up at a butcher's in Tottenham.
The court heard one of the defendants, Amirzada Hussain, 37, of Churston Avenue, Plaistow, east London, had keys to the business, which was owned by his brother.
'Screams of terror'
Stuart Trimmer QC, prosecuting, said a cleaner was smoking a cigarette beside an office in Ilford on 10 March when he became aware of something landing nearby.
It was later identified as Mr Ahmad's thumb.
The court heard 18-year-olds Faisal Chowdhury, from Newham, and Arnold Yousaf, from Cann Hall Road, both in east London, were seen forcing Mr Ahmad into a car driven by Mr Riaz on 7 March.
The court heard shouts of "leave me alone" and screams of terror were later heard coming from a flat.
Also on trial are Sharif Mohammed, 37, from Vista Drive, Ilford and Mr Riaz's sister Sabra Sultana, 36, from Kiwi Terrace, Ilford.
Mr Riaz, Mr Chowdhury, Mr Yousaf, Mr Mohammed and Hr Hussain all deny murder.
Mr Riaz, Mr Chowdhury and Mr Yousaf also deny conspiracy to kidnap.
All five men along with Ms Sultana deny conspiracy to falsely imprison.
Mr Mohammed, Mr Hussain and Ms Sultana also deny conspiracy to pervert the course of justice.
The case continues.