England's World Cup bid loss hits Milton Keynes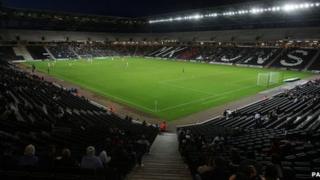 England's bid to stage the 2018 World Cup put Milton Keynes "on the map" as a venue for major sports events despite its failure, it has been claimed.
The MK Dons stadium was one of 12 stadiums across England which could have hosted matches.
But Fifa announced the 2018 tournament will be held in Russia.
Rita Spada, of the Milton Keynes Chamber of Commerce, said she was "disappointed", but Milton Keynes had learned a lot from the process.
'In major league'
Carl Robinson, the MK Dons football club manager, said: "We can be enormously proud of what we have done - to be named in the same breath as Liverpool, Manchester and Birmingham.
"It is an incredible achievement in such a short history span."
Ms Spada said: "We are very disappointed, but we congratulate Russia. From a Milton Keynes point of view we have achieved what we set out to do," she said.
"Milton Keynes is appreciated as one of the top places. We are in with the big guys of football, such as Liverpool."
She added that a huge amount had been learnt in the process of the bid.
"We are now in the major league. We are now working on a national level," she said.
She said it had put Milton Keynes in a good position to bid to be one of the host cities when the venue for the 2015 Rugby World Cup is announced.