Luton murder trial jury hears 999 call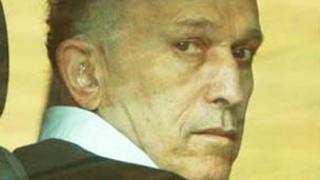 The jury at a murder trial has heard a 999 call made by an 18-year-old student who witnessed her stepfather repeatedly stabbing her mother.
Ria Jumaily's emergency call was played to Luton Crown Court.
The wife of retired GP Amad Jumaily, June, 46, had left him and started a relationship with another man.
Dr Jumaily, 60, denies murdering of his wife on 23 December 2009 at the former family home in Hertfordshire on the grounds of diminished responsibility.
About three minutes of Ria Jumaily's eight-and-a-half minute emergency call was played.
'Sleeping around'
In it she could be heard repeatedly screaming at her stepfather.
She was recorded telling the operator: "My dad is stabbing my mum."
In her written statement she described her mother lying face down on the kitchen floor. She said photographs had been laid out in front of her.
The photographs, of Ms Jumaily kissing another man, had been taken by a private detective, hired by Dr Jumaily, the court heard.
Ria's statement said that Dr Jumaily had said "Look at these pictures see what she has done," and "Look, she has been sleeping around."
The university student said her parents had separated five or six weeks before.
On the day her mother was killed the two of them went to the former family home in Field Lane, Letchworth, to collect some belongings.
Ria's statement continued: "He appeared calm and normal and I went upstairs to pack my belongings.
"I heard my mum scream and my dad shouting at her.
"I could see her on the kitchen floor and he was sitting on top of her and I could see he had a knife in his hand."
She eventually managed to get him to hand over the knife and she locked him in another room until police arrived, the court heard.
The case continues.