Two jailed over £2.6m drugs haul in Bedford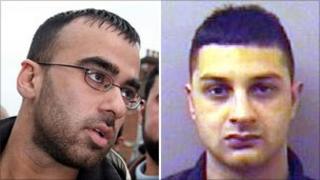 Two men have been jailed after a haul of drugs worth £2.6m was discovered in a house in Bedford.
Omar Khayam, previously of Ford End Road, and Mohammed Arfaan, of Chestnut Avenue, both Bedford, pleaded guilty to conspiracy to supply Class A drugs.
Luton Crown Court was told two police officers found the haul at the house in Ashburnham Road on 3 December 2009 when looking for another man.
Khayam, 27, was jailed for 13 years and Arfaan, 27, was jailed for six years.
The court was told the police officers went to the house to arrest a man for an unrelated offence.
Escaped through window
He was not there, but they noticed powder on the floor and objects covered by large plastic bags.
Prosecutor Natalie Carter said the officers returned with colleagues and searched the flat.
Two men who had been there had escaped through a window.
Police found 26.2 kilos of heroin with a high purity of up to 54% was recovered, along with 24.5 kilos of caffeine and 4.5 kilos of paracetamol to be used to cut into the drugs.
Three men wanted with the drugs haul are still at large, the court heard.
Abbas Lakha QC, defending Khayam, said he had become involved because of a drug debt he owed and was not the main organiser.
Alex Lewis, defending Arfaan, said he had been drawn into the conspiracy by Khayam, who was a school friend.