Killer of faith healer jailed at Luton Crown Court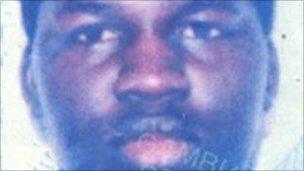 The disgruntled client of a faith healer who lured him to his death in Bedfordshire has been jailed for 10 years for manslaughter.
The body of Alfusaine Jabbi, 22, was found in Luton's Leagrave park in 2006.
Rubina Maroof, 30, who lived in Pembroke Avenue, Luton, had consulted Mr Jabbi who advertised that he could "break spells".
Prosecutors told Luton Crown Court Mr Jabbi was tortured to make him repay money he had charged Maroof.
Mr Jabbi offered to sacrifice camels in the Gambia and asked for money wrapped in clean underwear for prayers.
Maroof parted with cash, some of which he promised to return when his "spells" were finished, but he disappeared, the court heard.
Judge John Bevan QC said Maroof became "obsessive" about finding him and getting her money back.
Eventually, with help, he was lured to her home in Pembroke Avenue, Luton, where he was tortured to death in April 2006, the court heard.
His body was then dumped in a car park at Leagrave common, Luton, where it was found the following morning.
At Luton Crown Court she was cleared of the charge of murder but convicted of manslaughter.
She was also found guilty of conspiring to imprison Mr Jabbi.
Her brother Tarik Malik and a friend Imran Khan are both serving life sentences for Mr Jabbi's murder following their trial in 2008.
Related Internet Links
The BBC is not responsible for the content of external sites.