Shot-at officer praised for Milton Keynes robbery chase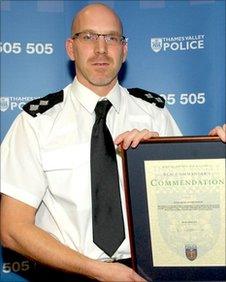 An off-duty police officer who continued to chase armed robbers after a gas cartridge was fired at his face has been commended for his actions.
Inspector Neil Spencer of Hertfordshire Police was shopping with his family in The Centre:MK when a jewellers was targeted in December 2009.
He pursued the offenders, one of whom shot a CS cartridge at his spectacles, and saw their getaway car.
Police said investigations were on-going and no arrests had been made.
Inspector Spencer said: "I would do it again - they were people who needed to be arrested. It's what I'm trained to do.
"They were my first thoughts, to apprehend them and also to prevent any injuries to the public and my family."
Describing the shot, he said: "The second offender pointed a handgun at my face.
"I went to intervene, apprehend and arrest him, at which point he discharged it and it hit my glasses, which stunned me for a few seconds.
"He continued to run and I continued to chase after him, when he discharged a couple more shots."
Police were able to trace the offenders' car as a result of Insp Spencer's description and have obtained DNA from the shattered window of Leslie Davis jewellers in Eagle Walk.
Soon after the raid on the morning of 1 December, police said it may have been committed by an organised crime group travelling from Eastern Europe.
The DNA evidence is being studied by police across Europe, a spokesman said.
Inspector Spencer was among 19 police officers, staff and members of the public who were commended at a ceremony in Milton Keynes police station on Thursday night.
Among the recipients were off-duty PC Steven Loft, Craig Goodridge and Karen Elliot who tried to save the life of a critically injured motorcyclist in May 2010.
Special Constable James Horn was commended for saving the life of a man who suffered an epileptic fit and ended up unconscious in a canal.
Related Internet Links
The BBC is not responsible for the content of external sites.