Luton faith healer murder accused gives no evidence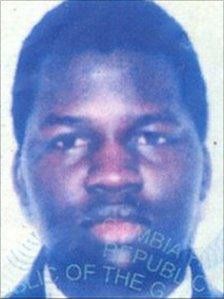 A woman accused of murdering a faith healer found dead in Bedfordshire will not give evidence at her trial, a jury has heard.
The body of Alfusaine Jabbi, 22, was found in Luton's Leagrave park in 2006.
Rubina Maroof, 30, who lived in Pembroke Avenue, Luton, at the time of Mr Jabbi's death, denies murder and conspiracy to imprison Mr Jabbi.
Prosecutors have told Luton Crown Court he was tortured to make him repay money he had charged Mrs Maroof.
The jury has been told Mr Jabbi had been beaten and stabbed and salt rubbed into his wounds.
Mrs Maroof's barrister, John Burton QC, said: "Do not hold it against her that she has not given evidence.
"The evidence is weak and it is for the prosecution to prove her guilt. She does not have to prove anything.
"No one saw her do anything and the prosecution are relying on circumstantial evidence and asking you to draw inferences."
The court was told Mrs Maroof had given a statement in May and said her husband Mohammed was agitated with the faith healer.
She claimed she was locked in a bedroom at the family house, looking after her son, and did not hear or see anything and did not learn of the death until she was on a plane to Pakistan.
Prosecutor Frances Oldham QC said: "The fundamental question is 'why did she go to Pakistan?'.
"We do not know her answer to that question because she has not taken the few steps from the dock to the witness box, and taken an oath to tell you the circumstances of that Friday night.
"The Crown say that her account of not seeing anything, not hearing anything and not doing anything is an affront to your intelligence.
"We say she knew exactly what was going on and was a key player in it.
"She is not the naive innocent she would have you believe."
Mrs Oldham said there was evidence to show the victim had been "lured" to the Maroof family home and his blood was later found at the scene.
Related Internet Links
The BBC is not responsible for the content of external sites.