Hertfordshire park rapist jailed for public protection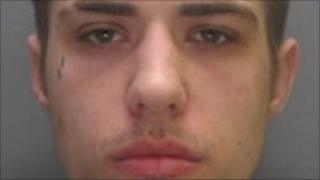 A man who raped a 17-year-old girl in a Hertfordshire park when she intervened in an argument, has been jailed for "public protection", a judge said.
St Albans Crown Court heard Reid Collins, 21, of no fixed address, forced the teenager into a tent in Cheshunt Park on 13 May.
The victim had tried to stop a fight between Collins and his then girlfriend, the court heard.
Collins admitted the offence and has been jailed indeterminately.
He cannot apply for parole for three years.
At Thursday's hearing, Judge John Plumstead called Collins a "very dangerous young man".
He said: "I do not think I can be sure that you will be safe for release in a set period of time.
"An experienced probation officer believes you have an anti-social personality disorder and that you are on the borderline of being a psychopath."
'Salacious' fictional account
Collins was arguing "violently" with his girlfriend when his victim tried to intervene, the prosecution said.
The court was told Collins then forced the girl into the tent where he was living, by telling her he had a "big, fat kitchen knife" and that he would petrol bomb her home if she did not follow him in.
He offered her a drink and cannabis joint before hitting her with an empty one-litre vodka bottle, the court heard.
Afterwards, Collins asked the girl why she was bleeding and crying and whether she had "enjoyed" the attack, the court was told.
Prosecuting, Jan Hayne said the defendant had originally denied raping the girl and gave a "salacious" but fictional account in police interviews of a sexual encounter between the two of them.
He changed his plea to guilty on the second day of his trial when the girl was due to give evidence against him.
Defending, Graham Blower said Collins had had a difficult upbringing and had suffered throughout his childhood.