Ex-Hollyoaks star Paul Danan fined over drugs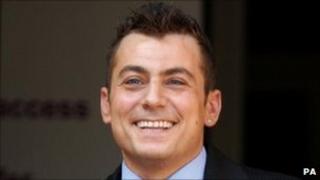 Former Hollyoaks star Paul Danan has been fined for drug possession and abusing police officers in Hertfordshire.
Danan, 32, admitted at Stevenage Magistrates' Court possessing cannabis and cocaine and a public order offence.
Officers arrested Danan, who lives in the Royston area, on 4 and 5 September.
Danan was fined a total of £350 and referred to a drugs agency for support and admitted "medicating myself" for anxiety and depression.
On 4 September police were called to Kneesworth Street, Royston, and shortly afterwards arrested Danan over cannabis possession and a public order offence when he swore at officers.
The next day officers responded to reports of a disturbance in Stamford Yard, Kneesworth Street, where Danan was arrested again and charged with cocaine possession.
Danan is best known for his role in the Channel 4 show Hollyoaks as Sol Patrick, who he played between 1997 and 2001.
He also appeared on television show Celebrity Love Island in 2006.