Driver jailed for Gerrards Cross cyclist crash death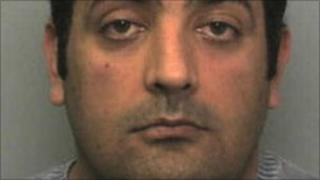 A driver who hit a cyclist leaving him dying in a Buckinghamshire road has been jailed for five years.
Ali Altuntas, 37, from Leadale Avenue, Chingford, east London, hit 47-year-old Jim Fleming on the A413 Amersham Road in Gerrards Cross on 1 April 2009.
He later disposed of his Mercedes car, which has never been traced, but mobile phone records placed him at the scene.
Altuntas was convicted of causing death by dangerous driving during a seven-day trial at Aylesbury Crown Court.
He was also found guilty of perverting the course of justice. He was jailed for one year for that offence and four years for causing death by dangerous driving.
Son orphaned
The court heard that in the 24 hours before the crash, Altuntas had only had a few hours' sleep.
Altuntas had told witnesses a number of stories about how his car came to be damaged, including that he had hit a deer, the court heard.
His wife told officers the car had been stolen and then, before officers asked any more questions, said she knew nothing about an accident with a bicycle, the court was told.
Mt Fleming was wearing a fluorescent jacket at the time and the collision investigation showed the road was in good condition and there was no sign of emergency braking from Altuntas's vehicle.
Speaking after the hearing, Sgt Martin Harper, of Thames Valley Police, said: "Altuntas has never taken responsibility for his actions that morning, which caused the death of Jim Fleming.
"He did not stop at the scene and drove away not knowing what condition the person he had hit was in.
"I hope his time in prison gives him the opportunity to reflect on what he has done and the devastation his actions have caused to Mr Fleming's family, including his young son who has been left orphaned."