Son jailed for murdering father and burying his remains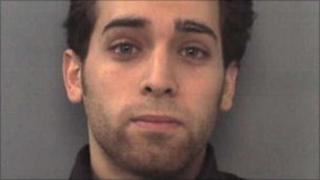 A man who murdered his father and buried his remains in concrete in a garden has been jailed for life and ordered to serve at least 16 years.
The body of Samuel Alexander, 70, was found buried in his garden in Drayton Parslow, in Buckinghamshire.
Mark Alexander, 22, of Fleet Street, London, sent Christmas cards in his father's name after the murder.
Reading Crown Court heard Alexander wanted to escape his father's influence and "lead the life he wanted to lead".
The remains of Samuel Alexander were found by police this February after he was reported missing by neighbours.
The Egyptian-born retired university lecturer, also known as Sami Yacoub El-Kayoubi, is thought to have been killed as long ago as August last year.
Mr Alexander was described in court as a "cantankerous" man who was so careful with money he recorded every financial transaction he made in his diary.
'Bullying behaviour'
He was very ambitious for his son, disapproved of him having a girlfriend and wanted him to study at the University of Paris-Sorbonne as part of his degree.
However, his son moved in with his partner instead.
Alexander, who won a scholarship to Rugby School aged 16, was in the third year of an English and French law degree at Kings College, London, when he was arrested over the murder.
Judge John Reddihough said he accepted that Alexander may have been in fear of his father, but added that after his death he acted in a "despicable, callous and sometimes cunning manner".
Alexander had claimed his father was still alive and living with friends in London.
He also claimed during the six-week trial that someone else must have committed the murder.
His counsel Michael Borelli QC, in mitigation, said Alexander's mother was driven away by the "boorish and bullying" behaviour of her then husband when the defendant was only six years old.
He was kept apart from other children and made to practise music and study for long hours under the orders of his father, the court was told, with Mr Alexander using a bell to summon his child.
Mr Borelli added that Alexander was so fearful of his parent that he could not tell him of plans to stay in London with his girlfriend.
The murder came after "a huge build up of tension", the court was told.
'Deceive officers'
Before sentencing Alexander, the judge said he accepted that he was "very much under the control of his father".
Judge Reddihough said: "The relationship to some extent involved fear of his father or at least fear of going against his father's wishes.
"You might have killed him because you couldn't face telling him of your future plans or because you tried to tell him and he disagreed."
He told Alexander: "Not only did you end your father's life in early September last year, you ruined all of your own future prospects."
Det Ch Insp Joe Kidman, of Thames Valley Police said: "Mark Alexander grew up under difficult and unusual circumstances.
"However that has to be balanced with the fact that he killed his 70-year-old father.
"Not only did he deny Samuel Alexander's right to proper burial, but he deliberately tried to deceive neighbours and officers investigating his father's disappearance and murder."